Auditions on Saturday 9/3/16 @ 11AM – 1PM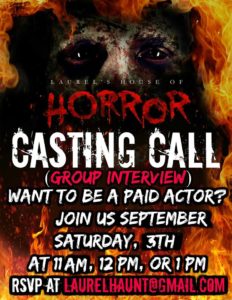 Laurel's House Of Horror, Maryland and DC's top rated Halloween attraction, is hosting group interviews for paid actors on Saturday, September 3rd, at 935 Fairlawn Ave Laurel, MD (Laurel's old Movie theater).  Group auditions will be held in 1 hour sessions starting at 11am and the last session starts at 1pm. Please contact us if you will be attending.
Halloween freaks like us are encouraged to stop by! People with extreme oddities are encouraged as well! No experience needed, but if you have experience working at a haunted house that is big plus!  Lots more details are below, from our earlier casting call.  There will be one more casting call on Saturday, September 3rd.
* Must be 16 and over to work, and 18 and over to get paid.
RSVP FOR AUDITION
---
---
---
Auditions on Sunday 8/14/16 @ 1-5PM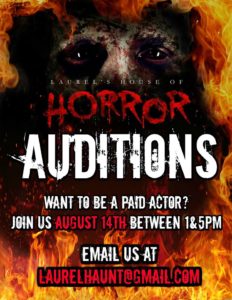 Laurel's House of Horror and Escape Room is hiring for the Fall Halloween season right now! To apply and get more information, please send us a message about yourself. Our crew is creative, fun and passionate about creating an incredible experience together.
---
Seeking Paid Actors
Auditions for paid actors for the House of Horror will be on Sunday, August 14th from 1PM to 5PM.  Let us know you'll be attending the audition using our contact form.  The House of Horror is our haunted house style attraction, built in the abandoned movie theater in Laurel, MD. We've got big, new plans for this season, and are adding new actors, characters and costumes. It's not required, but feel free to bring your costumes and ideas.
If you can't make it, or are interested in working with us for our events and attractions (our escape room, too), we still would love to hear from you.  We're looking for passionate actors and horror fans! Halloween season for our haunted house starts this Fall on September 23rd, 2016.
---
---
Seeking FX Makeup Artists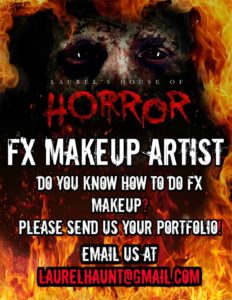 Do you know how to do FX makeup?  Please send us your portfolio link using our contact form.  Our crew is always looking to add new, talented and creative people to the team.  If you'd like to be an assistant and learn on the go, don't hesitate to send us a message for an interview. See the flyer below.
Our crew takes great pride in our work (and each other), and can't wait to meet you all!
All the best,
The Entire Crew at Laurel Haunt
---
Share this!