An Abandoned Movie Theater
Laurel's House of Horror and Escape Room has DC and Maryland's scariest haunted attractions, all built inside of an abandoned movie theater. Choose from four Escape Rooms, open year round. The Haunt's 4th Halloween season made our cast and crew the #1 Haunted House in Maryland – thank you for all your support!  Next season's Haunted House will open in September 2018.
Creating frightening, haunted memories for visitors since 2014, Laurel's House of Horror has grown its footprint and creepy factor within the abandoned Laurel movie theater. The attractions offer sensory overload, a chilling sense of anticipation, and fear with several new exhibits.  New and unique escape rooms are open all year during the weekends, and for private parties and special dates.  The elaborate House of Horror feature starts up again next September with new themed areas and special guests.
During the Fall Halloween season, Laurel's House of Horror is open each Friday, Saturday and Sunday through mid-October, and even more dates in late October, with an additional two dates in early November. View Haunted House Schedule (reopens September 2018) | View Escape Room Schedule (open now!)
---

Haunted
Laurel's House of Horror occupies the "Old Movie Theater", nestled in the back corner of the Laurel Centre Mall Shopping Center. The movie theater was abandoned by its former occupants several years ago. Having had their own paranormal experience on the property, the owners of Laurel's House of Horror and Movie Theater invited the Chesapeake Ghost Hunters to do an analysis of the property. During their investigation, they found that there are indeed signs of other-worldly activity at the location. The creepy, old movie theater, home now to the haunted attractions, is indeed a bona-fide haunt on its own.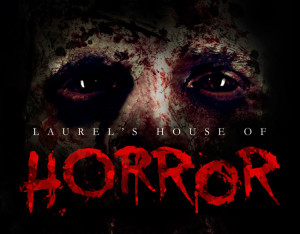 Updates on the coming season can be found on Facebook as well.
As an indoor attraction, events are held rain or shine.
About the Haunt
Laurel's House of Horror is a privately owned haunted attraction based inside a former movie theater in Laurel, Maryland. It's street address is 935 Fairlawn Avenue, Laurel, MD 20707. The main entrance sits nestled back in the far back right hand corner of the shopping center. Easily accessible from main highways in Baltimore, DC and Northern Virginia.  View Map | Contact Us 
---
* Laurel's House of Horror™ is an established business mark – all rights reserved.