An Abandoned Movie Theater
Laurel's House of Horror and Escape Room has DC and Maryland's scariest haunted attractions, all built inside of an abandoned movie theater. Open year round with varying schedules and features, the Escape Room attractions are open now for reservations with "Escape the Movies" and "Seven Deadly Sins".  The Haunt's 3rd Halloween season has ended – thank you all for making it such a huge success!  The Haunted House will return again on Friday, September 22, 2017.  Look out this summer on the Haunted House's schedule page to order tickets in advance.  Expect an all-new House of Horror experience this Fall!
Creating frightening, haunted memories for visitors since 2014, Laurel's House of Horror has grown its footprint and creepy factor within the abandoned Laurel movie theater. The attractions offer sensory overload, a chilling sense of anticipation, and fear with several new exhibits.  The 2017 Halloween season will bring back our elaborate House of Horror feature again next Fall starting in September with new themed areas and special guests.
During the Fall Halloween season, Laurel's House of Horror is open each Friday, Saturday and Sunday through mid-October, and Thursday through Sunday late October, with an additional two dates in early November. View Haunted House Schedule (reopens Friday, September 22, 2017) | View Escape Room Schedule (open now!)
---

Haunted
Laurel's House of Horror occupies the "Old Movie Theater", nestled in the back corner of the Laurel Centre Mall Shopping Center. The movie theater was abandoned by its former occupants several years ago. Having had their own paranormal experience on the property, the owners of Laurel's House of Horror and Movie Theater invited the Chesapeake Ghost Hunters to do an analysis of the property. During their investigation, they found that there are indeed signs of other-worldly activity at the location. The creepy, old movie theater, home now to the haunted attractions, is indeed a bona-fide haunt on its own.  Reserve Escape Room Tickets | Reserve House of Horror Tickets
Special Guests
R.A. Mihailoff, the actor who played "Leatherface" in "Leatherface: The Texas Chainsaw Massacre III" joined Laurel's House of Horror during our second Halloween season.  R.A. has a long list of horror movies on his resume including "Hatchet II", "Pumpkinhead II". Mihailoff's career in the 'cinema fantastique' began with a role in the original PBS made-for-tv sci-fi movie "The Lathe Of Heaven", since then he has portrayed a diverse range of monsters, mutants and madmen, everything from a villainous T-rex to a futuristic cyborg.  His stage work even includes a live version of the "Twilight Zone" episode – 'A Game Of Pool'. In addition to his work as an actor, R.A. has guest starred on a season premier broadcast of Travel Channel's "Ghost Adventures" reality show as part of the 'Hollywood Ghost Hunters' paranormal investigation team. Featured several times on "Coast to Coast AM with George Noory", R.A. has become well known for his work in both horror and the paranormal.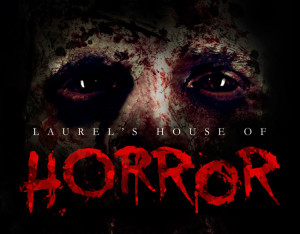 Updates on the coming season can be found on Facebook as well.
As an indoor attraction, events are held rain or shine.
About the Haunt
Laurel's House of Horror is a privately owned haunted attraction based inside a former movie theater in Laurel, Maryland. It's street address is 935 Fairlawn Avenue, Laurel, MD 20707. The main entrance sits nestled back in the far back right hand corner of the shopping center. Easily accessible from main highways in Baltimore, DC and Northern Virginia.  View Map | Contact Us 
---
* Laurel's House of Horror™ is an established business mark – all rights reserved.