Welcome to Laurel's House of Horror and Escape Room!
Here's the latest from the haunted movie theater in Laurel…
---
Movie Premiere of "The Conjuring 2"
Last night's screening of "The Conjuring 2" was incredible! The movie was amazing and very scary! Thank you to Warner Brothers for allowing us to promote the new movie plus our escape rooms and haunted house.  Annabell from the Conjuring: one of our actors, below.
Click the pics below to see full view
---
"Nightmare at the Movies" Escape Room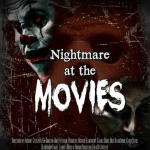 Don't miss our new escape room feature "Nightmare at the Movies", open all year long. The attraction thrills your group with iconic scenes from your favorite record-breaking horror films.  Whether it's solving intricate puzzles or racing the clock to escape, your limits will be tested in an attempt to truly escape the movies… or become our next victims trapped inside the haunted theater! Perfect for small and large groups: it's team-building, mind-challenging fun in four distinctive escape rooms. Survive "The Purge" and other movies.  Tickets are reservation only.  You can reserve your time slot and see the schedule here.  The rooms are usually available Wednesday – Sunday each weekend.
"Nightmare at the Movies" is currently featuring the films Friday the 13th, The Purge, and "It".  Check out our escape room FAQ for tons of answers on how it works.
---
---
Sneak Peek
Check out our all-new attraction, "Cryptic Legends".  Have a look…
Frankenstein and Dracula are waiting for you!  You can read more about "Cryptic Legends" and our escape room features on Facebook.
---
See you at the haunt!
‪