A Special Haunted House Event : April 28 – May 13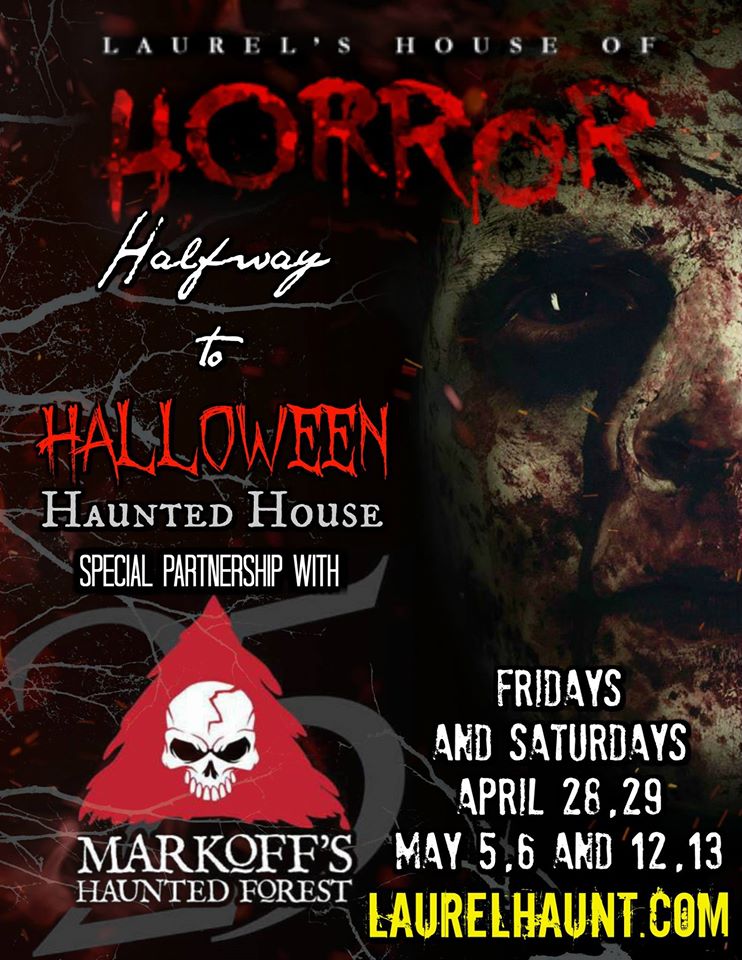 Are you as sad as we are that Halloween is so far away? Then come join us for our first annual "Halfway to Halloween" haunt!
Experience the haunted house attraction on select dates in April and May, a few months ahead of our regular Fall season.  We are re-opening the haunted house walk-through experience for a limited 6 dates.
Come on through and see if you can pick out the subtle changes we've made to the haunt, in a special partnership with Markoff's Haunted Forest (guest actors!).  Get pumped up and excited for our big September opening of our 4th annual Haunt!  We are turning up the special effects and scare this year along with some other fun changes — it will be both a bigger and different experience than before.
Limited Dates Available Now
Halfway to Halloween dates are:
April 28 – 29, 2017 : Get Tickets | Get RIP Tickets *
May 5 – 6, 2017 : Get Tickets | Get RIP Tickets *
May 12 – 13, 2017 : Get Tickets | Get RIP Tickets *
* RIP Tickets combine the Escape Room experience with the Haunted House.
The ticket booth opens at 6:30 PM, and doors open at 7:00 PM.  The ticket booth closes at 10:30 PM, and we will not close the doors until everyone who has tickets has entered the building.
Get Haunted House Tickets
You can purchase tickets for "Halfway to Halloween" haunted house below.  You may add a special "Fast Pass" feature to your ticket to skip the line on the night you pick.
BOOK HAUNTED HOUSE TICKETS
---
Presenting the R.I.P. Ticket – Available Now
We are also offering a special R.I.P. ticket that includes:
Escape Room game experience (45 minutes) – selected rooms can be viewed during booking.
General admission to the "Halfway to Halloween" haunted house.
Skip-the-line fast pass, so you can go right into the haunt after your escape game.
These special tickets are booked on a scheduled basis.  You sign up for your escape room time below.  When you arrive, you'll play the escape room game first, then go through the haunted house.  Online reservations only.  Don't wait to reserve your tickets!
RESERVE R.I.P. TICKETS
---
Introducing "Resident Horror" Escape Room
We've added a new escape room called "Resident Horror".
Read more about it here.
Hope to scare you soon!