Zombie Apocalpse – Ultimate Pass
* Limited Time Only *
---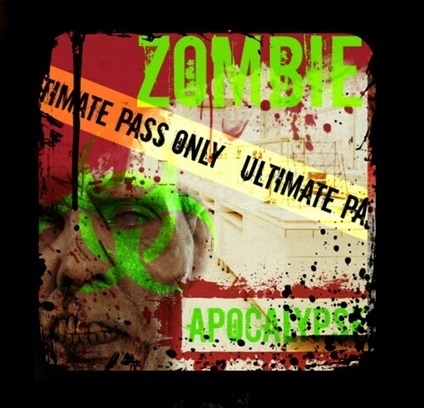 This all-inclusive "Ultimate Pass" offers
two exclusive attractions in one, plus a skip-the-line pass!
 Start your night off with our brand new attraction, the
"Zombie Apocalyspe"
Escape Room, built specially for the Halloween season, and then experience the Haunted House afterward.
How It Works
Sign up for your preferred time slot for the "Zombie Apocalypse" escape room (one hour blocks – make a reservation here.  Once you and your group make your way out of the escape room, you'll have an automatic "skip the line" fast pass to go into the Haunted House.  Our terrifying Halloween-season "House of Horror" features four big areas including the Industrial Warehouse, the Carnevil of Madness, Georgetown Alley, and The Unknown.  You get two new attractions: the brand new "Zombie" escape room, the Haunted House (includes the 2016 "House of Horror" with four distinct areas), plus a skip-the-line fast pass — all for one low price.
Zombie Apocalpyse is only available by getting an ultimate pass!
The "Ultimate Pass" is the only way you can see our newest escape room, "Zombie Apocalpse" and experience the "House of Horror" in the abandoned movie theater, all in the same night.  Open October 7th – November 5th, on the same days the Haunted House is open, including Halloween. The Ultimate Pass is available via online booking only (reservations required). Available for a limited time only.
---
Game Information
Since this is a timed game, with an appointed start time, please arrive promptly at your designated hour.  The "Zombie Apocalypse" Escape Room is a one-hour attraction, with approximately 45 minutes of game-play.  The Haunted House attraction varies by person or group, but has four distinctive areas.  You will have a fast-pass which allows you to skip the regular line for the "House of Horror" haunted house, and go in after your escape room game.
To purchase tickets, head over to our Escape Room ticket page.  This is the only place you can get tickets.  Even though you're ordering from the Escape Room page, you are getting both the Escape Room experience (in a special Halloween "Zombie Apocalyse" attraction, not listed anywhere else) and the Haunted House in the same night.  Check out both of those pages for all details.
Each escape room booking has 8 participants.  Read more: Escape Room | View Open Dates | Escape Room FAQs | Haunted House FAQs.  Please review details and rules on the links above before booking!
OPEN RAIN OR SHINE!
* We are an indoor facility, and have overhangs outside, too.
House of Horror 2016
This year's "House of Horror" Haunted House features FOUR distinct, themed areas!